J.S. BACH
Concerto in D Minor for Two Violins (BWV1043)
Track Listing
I. Vivace (4:00) mp3
II. Largo ma non tanto (7:33) mp3
III. Allegro (5:09) mp3
Performed By
Mark Ptashne, violin
Adrian Levine, violin
Brian Manker, cello
Bradley Brookshire, harpsichord
Da-Hong Seetoo, tonemeister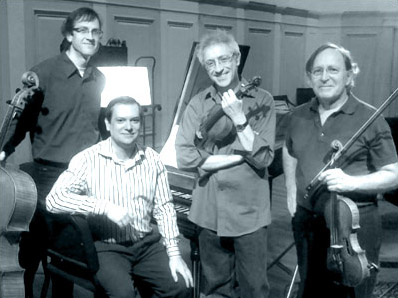 From Left: Manker, Brookshire, Levine, Ptashne
ABOUT THE PLAYERS
Mark Ptashne
Mark Ptashne holds the Ludwig Chair of Molecular Biology at Memorial Sloan-Kettering Cancer Center in New York. A member of the National Academy of Sciences, his work on gene regulation has garnered numerous national and international awards including the Lasker Prize for Basic Research. In addition to his many research papers, he has written two books: A Genetic Switch (now in its third edition) and Genes and Signals (co-authored with Alex Gann). He studied science (not music, alas) at Reed College and then Harvard University. He has studied the violin privately with Roman Totenberg, Eric Rosenblith and Patty Kopec, and now studies with Mela Tenenbaum in Brooklyn.
Visit Mark Ptashne's site at the Sloan-Kettering Institute
Articles by Mark Ptashne:
On Learning to Write
On Speaking, Writing and Inspiration
Adrian Levine
Adrian Levine is Professor of violin at the Royal College of Music in London and Tutor at Chethams School of Music in Manchester. He has held several prominent positions, including Concertmaster of the Opera House of Rome under Giuseppe Sinopoli, Associate Concert Master of the London Philharmonia, and Assistant Concertmaster of the Academy of St Martins-in-the Field. He also founded and led the Amphion String Quartet in London. His first teachers included Gyorgy Pauk and Emanuel Hurwitz at the Royal Academy of Music, and he then worked with members of the Amadeus Quartet and with the great Polish virtuoso Henryk Szerying.
Brian Manker
Brian Manker, a graduate of the New England Conservatory in Boston, is Solo Cellist of the Orchestra Symphonique de Montreal and teaches cello at McGill University. A frequent soloist with the OSM, he has also performed throughout North America as a member of the Harrington String Quartet, the Atlanta Chamber Players, and with other distinguished artists. He can be heard on numerous chamber music and orchestral recordings. He has formed a critically-acclaimed sonata recital partnership with the pianist André Laplante, and is the co-director of Festival Alexandria.
Bradley Brookshire
Bradley Brookshire is Director of Graduate Studies in the Conservatory of Music, Purchase College (SUNY) New York. Hailed by New York Magazine as "a leading light of New York's original-instrument scene," he has emerged as one of most noted Bach interpreters of his generation. His distinctive approach to Bach's harpsichord music has led to sustained critical acclaim by The New York Times (his interpretation of Bach's French Suites was named a New York Times "Critic's Choice" Recording of year 2001), Goldberg Magazine, Stereophile Magazine, and The American Record Guide, among others.
ABOUT THE RECORDING
Da-Hong Seetoo, a Curtis and Juilliard-trained violinist, ranks among today's most sought-after classical recording producers and engineers. Winner of five Grammy Awards, he combines the latest software technologies with his own custom-designed electronics, achieving unparalleled musical and sonic results. His deep musical knowledge and pursuit of perfection have earned him the trust of some of the world's most prestigious and prolific recording artists, who have often likened him to a valued member of their ensembles. He has produced records for the classical music industry's most important recording labels.
Levine plays the second solo violin part on the Stradivarius violin known as the 'Willemotte'. It was made in 1734 in Stradivarius' 90th year, and is one of the last violins attributed solely to this maker. Ptashne plays the first solo part on the violin made by Guarneri Del Gesù known as the 'Plowden'. It was made in 1735, and has long been recognized as one of the finest Del Gesùs in existence. For an extensive and novel analysis of these violins see the DVD STRAD3D issued by Sam Zygmuntowicz. Manker's cello was made by Sam Zygmuntowicz, in Brooklyn, in 2005. Instruments made by this modern luthier are played in concert by many prominent musicians including Arnold Steinhardt of the Guarnei Quartet and by all four members of the Emerson Quartet. Brookshire's harpsichord was made in 1991 by Philip Tyre after the 1738 Christian Vater harpsichord now in the Nurnberg Musical Instrument Museum.
The original drawing on the frontispiece is by Jules Feiffer. This artist is known in the world of Arts and Letters as Jules Feiffer.
The music, the Bach Violin Concerto in D minor (BWV1043) for Two Violins, Strings and Continuo, is usually played by two solo violins and orchestra. In our recording a harpsichord and a cello play the orchestral parts. The solo violins are more prominent, and the feeling of the piece is rather different, more intimate, when performed this way.
INSTRUMENTS
The Stradivarius 'Willemotte' Violin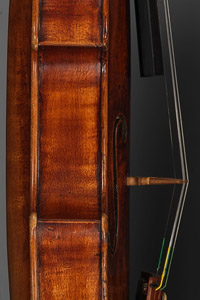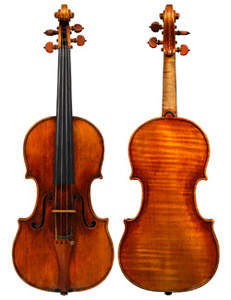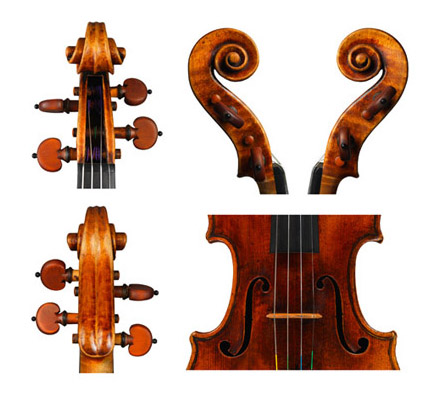 Documentation and Provenance
Here are reproduced the certificate of authenticity and a letter concerning the history of the violin, both from W.E. Hill and Sons, London, for many years the world's most important violin dealers and experts.
"We certify that the violin submitted to us by Dr. Gerhard Tischar of Cologne, was made by Antonio Stradivari, whose original label dated 1734, the instrument bears. The back, in one piece, is of plain wood marked by a faint curl of medium width slanting slightly downwards to the right, that of the sides is similar, the curl of the head being smaller & more pronounced; the table, of pine of medium grain is more open on the bass side & the varnish of an orange-brown colour. This violin, a characteriBACHstic example of the late period, is entirely original, though somewhat worn."
View Certificate
"Dear Sr. Tischer, // The history of the Stradivari violin, certificate for which accompanies this letter, is, as far as it is known to us, a brief one. // I first became acquainted with the instrument when it was in the possession of M. Chas. Willemotte of Antwerp, who, at that time, had no less than five other 'Stradivaris'. I learnt that he had azquired this one from Gand and Bernardel of Paris, in the year 1886, the price paid for it being thirteen thousand gold francs. Prior to that, the violin had been in the hands of a French amateur of the name of Cartier, on whose death, the members of his family sold it to the above named firm. This fiddle together with several others were purchased by the late Chas. Edler of Frankfurt in 1894 on the dispersal of the Willemotte Collection, a short time before the owner's death. Its subsequent history is better known to you than to me. // M. Willemotte was a very enlightened amateur who played the violin extremely well, having in his youth been trained for the profession, but, having inherited a fortune, gave up the idea of a musical career. // He had a very intelligent appreciation of fine instruments and I consider him one of the most enlightened connoisseurs it has been my privilege to know. // A.E. Hill"
View Letter
Audio Samples
Beethoven, Violin Concerto
Mela Tenenbaum on the 'Willemotte' Stradivarius
Czech Philharmonic Chamber Orchestra
Richard Lapp, conductor
I. Allegro ma non troppo mp3
II. Larghetto mp3
III. Rondo, Allegro mp3
The 'Plowden' Guarneri del Gesù Violin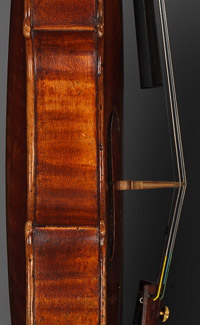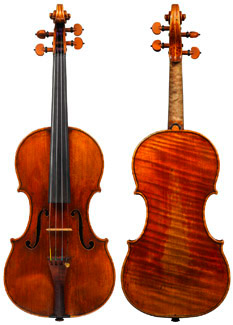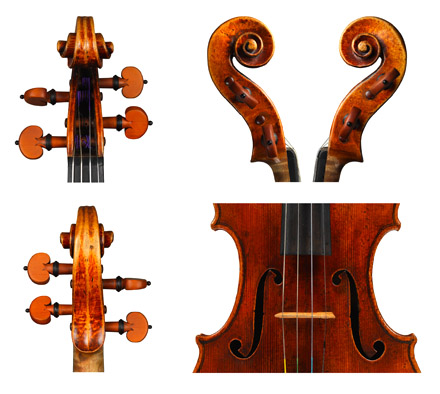 Documentation and Provenance
"We certify that the violin sold by us to John Q. Roberts Esqre, of Hartford, Conn. U.S.A. was made by Joseph Guarneri del Gesù whose original label dated 1735 the instrument bears. The back, in one piece, is of handsome wood marked by a broad curl slanting downwards from left to right; that of the sides is similar, the head being plainer; the table is of pine of vigorous growth and open grain, the varnish of a beautiful orange-red colour and superb texture. This example known as 'The Plowden Guarneri' is in a fine state of preservation."
View Certificate
"Dear Mr Roberts, // The history of the Plowden 'Guarneri del Gesù' is, as far as it is known to us, as follows: - // Our earliest record of this violin dates back to the fifties of the last century when it was acquired by the late Mr C.H. Chichele Plowden - perhaps the most reputed amateur of his day - who had formed a Collection of choice instruments comprising, amongst others, four Guarneri, and four Stradivari violins, the present fiddle, christened by its owner 'The Beauty' being one of the former. It is my impression that is was originally brought here from Paris and bought of the late John Hart, of which fact, however, we have no documentary evidence. On the death of Mr Plowden, in 1866, this violin passed into the hands of the late George Hart who sold it to the well known amateur, Louis D'Egville, who retained possession of it and a companion 'Guarneri' all his life! and well do I recall seeing it in his hands, when, in the days of my youth, he used to visit my Father's shop. On his death, the fiddle passed to his son, Louis Hervey D'Egville, a very talented amateur violinist, who played like an artist; he retained possession of the instrument until 1900, when it was purchased by our firm. We then sold it to Baron Johann Knoop, who, at that time had the finest Collection of Instruments in the world ! On their subsequent dispersal in 1904-5, this violin came back into our hands and was sold by us to Mr Richard Bennett, another enthusiastic collector, who, at one time, owned the 'Leduc Guarneri', and is now parting with the fiddle in your favour. // This violin was exhibited at the French International Exhibition of 1878, in the Loan Collection of celebrated instruments. // I have, in my possession, several letters addressed to Mr Plowden by J.E.Vuillaume, in which he refers to his Guarneri violins in eulogistic terms, and, incidentally, I would mention that the English translation of the Life of Stradivari inspired by Vuillaume and written by Fétis, is dedicated to Mr Plowden whose Guarneri violins he describes therein as being amongst the finest in existence, a testimonial which, as far as this example is concerned, I have no hesitation in endorsing ! As regards its beauty, it has no rival, the colour of its varnish is superb, the texture thereof likewise ! In a word, you have in your possession one of the very few Guarneri violins of the first rank: that is should henceforth be housed with the Betts 'Stradivari' is indeed a matter for congratulation for all concerned ! And, knowing that in your hands these two violins will be wll [sic] cared for, I am resigned to their leaving our shores ! // Yours faithfully, Alfred Hill"
View Letter
The 'Manker' Zygmuntowicz Cello
A cello made by Sam Zygmuntowicz in Brooklyn, New York in 2005.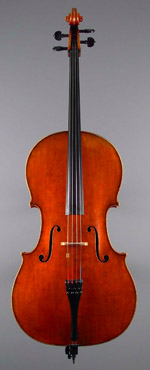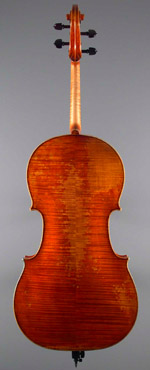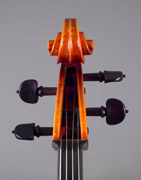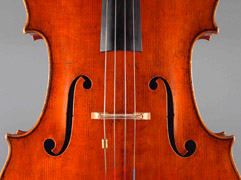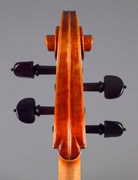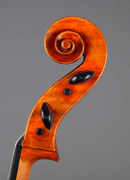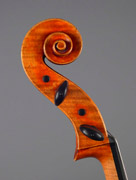 Violin photos by Tucker Densley courtesy of Reuning and Sons Violins, Boston.
Cello photos by Jean Fitzgerald of Wilder & Davis, Luthiers, Inc.
Audio Samples
Brian Manker on his Zygmuntowicz Cello
Andre Laplante, piano
Debussy, Sonata for Cello and Piano mp3
Bradley Brookshire on his 1991 Philip Tyre harpsichord
Bach, The Art of the Fugue
Contrapunctus XI (triple fugue), track 11 from the cd "The Art of the Fugue" (BWV 1080) mp3
BOWS
The Ex-Busch Tourte Violin Bow
The bow, played by Mr. Levine on the Wilmotte Stradivarius of 1834 is a wonderful example of the very rare tortoiseshell and gold mounted bows made by Francois Tourte. Dating from around 1815-1820, it is typically octagonal, of a deep golden orange pernambuco wood and is exceptionally firm. It is illustrated in Bows for Musical Instruments by Joseph Roda (published in 1959) and was exhibited in exhibitions in Berlin and Cologne in 2004. This bow is called the ex-Busch Tourte; it was owned and played by Adolf Busch of the Busch Quartet, a celebrated German string quartet formed in 1918. Busch's violin was a Stradivarius made around the same time as the Wilmotte.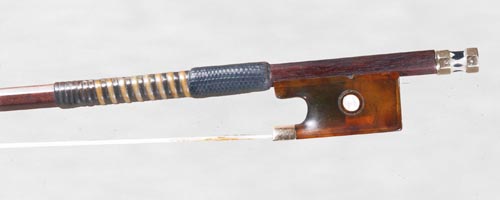 The Ex-Ferras Peccatte Violin Bow
This fine Dominique Peccatte violin bow, played by Dr. Ptashne on the Plowden del Gesu was formerly the property of the eminent French violinist Christian Ferras. It has a remarkably bold stick and is octagonal, very rarely seen among bows by Peccatte. It is illustrated in The Bowmakers of the Peccatte Family by Paul Childs (1996).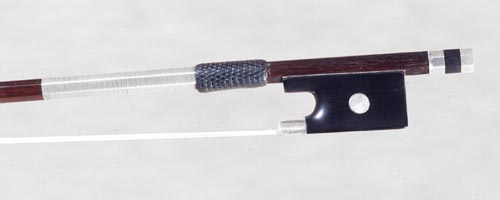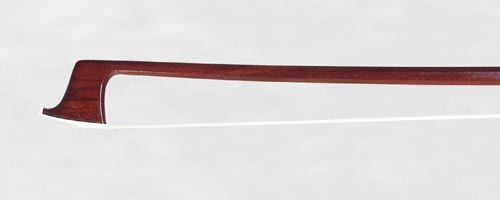 A Voirin Cello Bow
This bow made by Francois Nicolas Voirin (1833-1885), owned  and used  by  Brian Manker, is one of the Parisian master's later works.


© 2008 Mark Ptashne.